Carus Roman Emperor 282-283AD Biography and Authentic Ancient Coins Available for Sale from Trusted Ancient Coin Dealer
Buy ancient coins of Carus who was a Roman senator turned emperor, whom established a dynasty with his son Numerian and Carinus. He worked to restore the strenght of the empire as the previous emperors Aurelian and Probus did. You can explore a selection of authentic ancient coins of this emperor at my online coin shop, based on eBay where you can place offers on the amount you would like to pay to get the absolute best deals possible online. All coins you purchase from his store are professionally researched, photographed and provided with a lifetime guarantee of authenticity. They also come complete with a signed, full-color, custom professionally-done CERTIFICATE of AUTHENTICITY, a $50-$100 value, absolutely Free. Visit his website and explore a selection of thousands of certified authentic ancient Greek, Roman, Biblical, Byzantine coins, artifacts and beyond. A fun way to learn about and preserve history for future generations.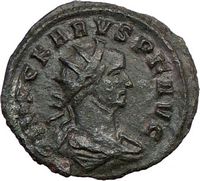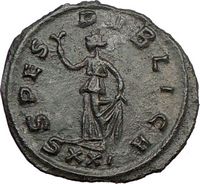 Example of Authentic Ancient Coin of:
Carus - Roman Emperor: 282-283 A.D. -
Bronze Antoninianus Ticinum mint: 282-283 A.D.
Reference: Unpublished Type
IMP C KARVS P F AVG, radiate draped bust right.
SPES PVBLICA, Spes walking left with flower & raising robes, SXXI in exergue.
* Numismatic Note: Interesting to note that the obverse has KARVS instead of CARVS on the obverse, makes me come to the conclusion that the celator (die maker) may have been of Greek origin and used the Hellenized K instead of C for the obverse inscription. It is possible that this is an unpublished type with the obverse and reverse inscriptions. Of excellent quality.
In Roman mythology, Spēs was the goddess of hope. She was traditionally defined as "the last goddess" (Spes, ultima dea), meaning that hope is the last resource available to men. There was a temple to her in the Forum Holitorium. In art, Spes was depicted hitching her skirt while holding a cornucopia and flowers. Spes personified hope for good harvests, and for children, and was invoked at births, marriages, and other important times. Her Greek equivalent was Elpis.
Marcus Aurelius Carus (c. 230 - late July/early August, 283) was a Roman Emperor (282-283). During his short reign, Carus tried to follow the path of restoration of the empire strength marked by Aurelian and Probus. His sons Carinus and Numerian formed, with Carus, a short lived dynasty, which granted further stability to a resurgent empire. He also had a daughter Aurelia Paulina.
Biography
Carus, whose name before the accession may have been Marcus Numerius Carus, was born, probably, at Narbo (modern Narbonne) in Gaul,[1] but was educated at Rome. He was a senator, and had filled various civil and military posts before he was appointed prefect of the Praetorian Guard by the emperor Probus in 282. After the murder of Probus at Sirmium, Carus was proclaimed emperor by the soldiers. Although Carus severely avenged the death of Probus, he was himself suspected of having been an accessory to the deed. He does not seem to have returned to Rome after his accession, but contented himself with an announcement of the fact to the Senate.
Bestowing the title of Caesar upon his sons Carinus and Numerian, he left Carinus in charge of the western portion of the empire, and took Numerian with him on the expedition against the Persians which had been contemplated by Probus. Having defeated the Quadi and Sarmatians on the Danube, Carus proceeded through Thrace and Asia Minor, annexed Mesopotamia, pressed on to Seleucia and Ctesiphon, and carried his arms beyond the Tigris. The Sassanid Emperor Bahram II limited by internal opposition, could not effectively defend his territory. For his victories, which avenged all the previous defeats suffered by the Romans against the Sassanids, Carus received the title of Persicus Maximus.
Carus hopes of further conquest were cut short by his death. One day, after a violent storm, it was announced that he was dead. His death was variously attributed to disease, the effects of lightning, or a wound received in a campaign against the Persians. The facts that he was leading a victorious campaign, and that his son Numerian succeeded him without opposition, suggest that his death may have been due to natural causes.