Faustina I Roman Empress Antoninus Pius wife Ancient Coins Numismatic Investment
Buy coins of Faustina I Roman Empress. Every coin comes with it's own custom-made, unique certificate of authenticity $50-$100 value, absolutely free, a lifetime guarantee of authenticity, professional research photograph and history.

Find out for yourself what over 10,000 other satisfied customers say about their experience and start your ancient coin collection today.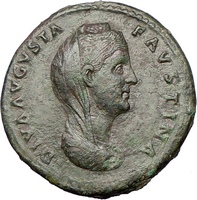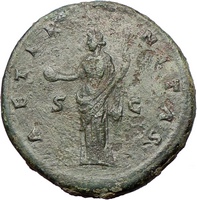 Example of Authentic Ancient Coin of:
Faustina I - Roman Empress Wife of Roman Emperor Antoninus Pius
POSTHUMOUS After Death Christian Deification Issue.
Bronze Sestertius Struck at the mint of Rome circa 141-146 A.D.
Reference: RIC 1108 (Antoninus Pius), C 37
DIVAAVGVSTA FAVSTINA - Veiled, diademed, draped bust right.
AETERNITAS - Providentia standing left, holding globe and scepter.
In Roman mythology, Providentia was the goddess of forethought. Providentia. (Providence).----With all their vices, follies, and gross superstitions (indeed, in spite of them), the Romans still appear to have cherished a belief in the perpetual and direct interposition of the gods with respect to human affairs.----Among the various monuments which attest this religious feeling, or at leas this profession of religion, on the part of both princes and people, none are more conspicuous than those to be found on their imperial coins, for it is to be observed that previous to the substitution of the monarchical for the republican form of government, that allegorical divinity whose name is derived from providere (to foresee) is not seen either on metal or on marble.
Annia Galeria Faustina, more familiarly referred to as Faustina the Elder (Latin: Faustina Major; born September 21 about 100, died October or November 140), was
a Roman Empress and wife of Roman Emperor Antoninus Pius.
Faustina was the only known daughter of consul and prefect Marcus Annius Verus and Rupilia Faustina. Her brothers were consul Marcus Annius Libo and praetor Marcus Annius Verus. Her maternal aunts perhaps were Roman Empress Vibia Sabina, Matidia Minor. Her paternal grandfather had the same name as her father and her maternal grandparents possibly were Salonina Matidia (niece of Roman Emperor Trajan) and suffect consul Lucius Scribonius Libo Rupilius Frugi Bonus. Faustina was born and raised in Rome.
As a private citizen, she married Antoninus Pius between 110 and 115. Faustina and Antoninus had a very happy marriage. Faustina bore Antoninus four children, two sons and two daughters. They were:
Marcus Aurelius Fulvius Antoninus (died before 138); his sepulchral inscription has been found at the Mausoleum of Hadrian in Rome.

Marcus Galerius Aurelius Antoninus (died before 138); his sepulchral inscription has been found at the Mausoleum of Hadrian in Rome. His name appears on a Greek Imperial coin.

Aurelia Fadilla (died in 135); she married Aelius Lamia Silvanus or Syllanus. She appears to have had no children with her husband and her sepulchral inscription has been found in Italy.

Annia Galeria Faustina Minor or Faustina the Younger (between 125-130-175), a future Roman Empress; she married her maternal cousin, future Roman Emperor Marcus Aurelius. She was the only child who survived to adulthood.
On July 10, 138, her uncle emperor Hadrian had died and her husband became the new emperor. Antoninus was Hadrian's adopted son and heir. Faustina became Roman Empress and the senate accorded her the title of Augusta. Faustina as an empress was well respected and this beautiful woman was renowned for her wisdom. The Augustan History impugned her character, criticizing her as having "excessive frankness" and "levity". However, this doesn't appear to be the case with her character. Throughout her life, Faustina as a private citizen and an empress was involved in assisting with charities, assisting the poor and sponsoring and assisting in the education of Roman children, particularly of Roman girls.
She can be viewed as one of the most moral, stable and respected empresses in the history of the Roman Empire. When Faustina died, Antoninus was in complete mourning for Faustina.
Antoninus did the following in memory of his loving wife:
Deified her as a goddess (her apotheosis was portrayed on an honorary column)

Had a temple built in the Roman Forum in her name, with priestesses in the temple.

Had various coins with her portrait struck in her honor. These coins were inscribed DIVA FAVSTINA ("Divine Faustina") and were elaborately decorated.

Founded a charity called Puellae Faustinianae or Girls of Faustina, which assisted orphaned girls.

Created a new alimenta (see Grain supply to the city of Rome).
In 2008, archaeologists digging at the ancient site of Sagalassos in Turkey discovered a colossal marble head which is believed to be that of Faustina.