Faustina II Roman Empress Marcus Aurelius wife Commodus mother Ancient Coins Investment
Buy coins of Faustina II Roman Empress
Faustina, named after her mother, was her parents' fourth and youngest child and their second daughter; she was also their only child to survive to adulthood. She was born and raised in Rome.
Every coin comes with it's own custom-made, unique certificate of authenticity $50-$100 value, absolutely free, a lifetime guarantee of authenticity, professional research photograph and history.
You can also watch the video below for more in-deph information.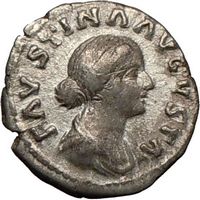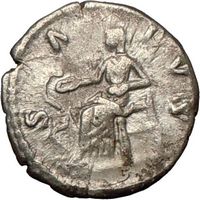 Example of Authentic Ancient Coin of:
Faustina II - Roman Empress & Wife of Emperor Marcus Aurelius - 161-175 A.D. -
Silver Denarius 18mm (2.84 grams) Struck circa 161-175 A.D.
Reference: RIC 714 (Marcus Aurelius), C 195
FAVSTINAAVGVSTA - Diademed, draped bust right.
SALVS - Salus seated left, feeding snake on altar.
Salus (Health) a Goddess of the Romans, the same that was worshipped under the name of Hygiea by the Greeks, who feigned her to be the daughter of Asclepius and of Minerva. On a denarius of the Acilia family appears the head of the goddess and on the reverse a female standing with a serpent in her hand. The types of this divinity on imperial coins most frequently present to view a woman clothed in the stola;
sometimes she is sitting, at others standing; in others in a recumbent posture, with a serpent either on her right or her left arm in a quiescent state, rising in folds or entwined round an altar before her, and receiving food from a patera, which she holds in her extended hand. It is in this form (which was doubtless that of her statues and with these symbols) that she is exhibited on most coins on the imperial series from Galba to Maximianus. She had a celebrated temple at Rome, painted, it was said, by Q. Fabius, who thence was surnamed Pictor (the painter) . - There appears to be some affinity between this personification of Salus, when offering food in a patella to a serpent, and the Lanuvian virgin represented in the same act on coins bearing the head of Juno Sospita. - The opinion also has the probability on the face of it, which refers the serpent on coins, where mention is made of Salus Augusti, or Augustorum, to Aesculapius and his daughter Hygaeia (or Salus) as deities of Health. - Certain it is that when those sanitary divinities, and especially when Dea Salus, occur on coins of Emperors, they indicate that those princes were labouring at the time under some diseases; on which account, it would seem, sacred rites had been performed for them and the memorial of the event recorded on public monuments.
Annia Galeria Faustina Minor (Minor Latin for the younger), Faustina Minor or Faustina the Younger
(February 16 between 125 and 130-175) was a daughter of Roman Emperor Antoninus Pius and Roman Empress Faustina the Elder. She was a Roman Empress and wife to her maternal cousin Roman Emperor Marcus Aurelius. Though Roman sources give a generally negative view of her character, she was held in high esteem by soldiers and her own husband and was given divine honours after her death.
Biography
Faustina, named after her mother, was her parents' fourth and youngest child and their second daughter; she was also their only child to survive to adulthood. She was born and raised in Rome.
Her great uncle, the Emperor Hadrian, had arranged with her father for Faustina to marry Lucius Verus. On February 25, 138, she and Verus were betrothed. Verus' father was Hadrian's first adopted son and his intended heir. However when Verus' father died, Hadrian chose Faustina's father to be his second adopted son, and eventually, he became Hadrian's successor. Faustina's father ended the engagement between his daughter and Verus and arranged for Faustina's betrothal to her maternal cousin, Marcus Aurelius; Aurelius was also adopted by her father. On May 13, 145, Faustina and Marcus Aurelius were married. When her father died on March 7, 161, her husband and Lucius Verus succeeded to her father's throne and became co-rulers. Faustina was given the title of Augusta and became Empress.
Unfortunately, not much has survived from the Roman sources regarding Faustina's life, but what is available does not give a good report. Cassius Dio and the Augustan History accuse Faustina of ordering deaths by poison and execution; she has also been accused of instigating the revolt of Avidius Cassius against her husband. The Augustan History mentions adultery with sailors, gladiators, and men of rank. However, Faustina and Aurelius seem to have been very close and mutually devoted. Her husband trusted her and defended her vigorously against detractors.
Faustina accompanied her husband on various military campaigns and enjoyed the love and reverence of Roman soldiers. Aurelius gave her the title of Mater Castrorum or Mother of the Camp. Between 170-174, she was in the north, and in 175, she accompanied Aurelius to the east. However, these experiences took their toll on Faustina, who died in the winter of 175, after an accident, at the military camp in Halala (a city in the Taurus Mountains in Cappadocia).
Aurelius grieved much for his wife and buried her in the Mausoleum of Hadrian in Rome. She was deified: her statue was placed in the Temple of Venus in Rome and a temple was dedicated to her in her honor. Halala's name was changed to Faustinopolis and Aurelius opened charity schools for orphan girls called Puellae Faustinianae or 'Girls of Faustina'. The Baths of Faustina in Miletus are named after her.
In their thirty years of marriage, Faustina bore Marcus Aurelius thirteen children:
Annia Aurelia Galeria Faustina (147-after 165)

Gemellus Lucillae (died around 150), twin brother of Lucilla

Annia Aurelia Galeria Lucilla (148/50-182), twin sister of Gemellus, married her father's co-ruler Lucius Verus

Titus Aelius Antoninus (born after 150, died before 7 March 161)

Titus Aelius Aurelius (born after 150, died before 7 March 161)

Hadrianus (152-157)

Domitia Faustina (born after 150, died before 7 March 161)

Fadilla (159-after 211)

Annia Cornificia Faustina Minor (160-after 211)

Titus Aurelius Fulvus Antoninus (161-165), twin brother of Commodus

Commodus (161-192), twin brother of Titus Aurelius Fulvus Antoninus, later emperor
Marcus Annius Verus Caesar (162-169)
Vibia Aurelia Sabina (170-died before 217)