Pontius Pilate Roman Procurator of Judaea
Crucifixion of Jesus Christ History Ancient Coins
Buy authentic ancient Pontius Pilate coins. Read the history of the Roman Procurator of Judaea and explore a large selection of ancient coins from a trusted online ancient coin dealer. Every coin comes with it's own custom-made, unique certificate of authenticity $50-$100 value, absolutely free, a lifetime guarantee of authenticity, professional research photograph and history. The best value at an online coin shop you will find!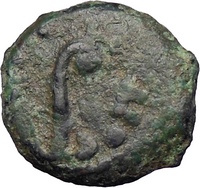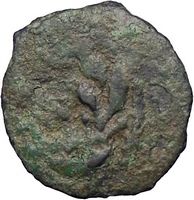 Example of Authentic Ancient Coin of:
Pontius Pilate - (chiefly known for crucifixion of Jesus) ruled 26-36 A.D.
Procurator of Judaea under Emperor Tiberius, Roman Emperor: 14-37 A.D.
Bronze Prutah Struck at the mint of Jerusalem 30 A.D.
Reference: Hendin 649
Lituus, surrounded by TIBEPIOY KAICAPOC.
Date LIZ (= year 17 = 30 C.E.) within wreath.
* Numismatic Note: Authentic ancient biblical coin, issued by the Roman procurator whom had Jesus Christ crucified. Very rare, unique piece of ancient history.
You are bidding on the exact item pictured, provided with a Certificate of Authenticity and Lifetime Guarantee of Authenticity.
Pontius Pilate; Latin: Pilatus, was the Prefect of the Roman Empire's Judaea Province from the year AD 26 until AD 36. Typically referenced as the fifth Procurator of Judea, he is best known as the judge at Jesus' trial and the man who ordered his crucifixion, as attested by the non-Christian Cornelius Tacitus (who doesn't mention the method of execution itself), the Jewish historian Flavius Josephus and by the Bible.
Pilate appears in all four canonical Christian Gospels. Mark, depicting Jesus as innocent of plotting against Rome, portrays Pilate as extremely reluctant to execute Jesus, blaming the Jewish hierarchy for his death. In Matthew, Pilate washes his hands of Jesus and reluctantly sends him to his death. In Luke, Pilate not only agrees that Jesus did not conspire against Rome, but Herod Antipas, the tetrarch, also finds nothing treasonous in Jesus' actions. In John, Jesus' claim to be the Son of Man or the Messiah to Pilate or to the Sanhedrin is not portrayed.
Pilate's biographical details before and after his appointment to Judaea are unknown, but have been supplied by tradition, which include the detail that his wife's name was Claudia Procula (she is canonized as a saint in the Greek Orthodox Church) and competing legends of his birthplace.