About Ilya Zlobin
Dealer, Expert and Enthusiast of Ancient Coins
---
My name is Ilya Zlobin and I welcome you to my site. I will be your guide in the exploration of the amazing topic of ancient coin collecting. I have a vast array of experience by buying and selling authentic ancient Greek and Roman coins for many years. I have grown quite a reputation for bring quality, value and utmost integrity into the business. I only sell coins that I have 100% certainty of their authenticity. I back up what I sell with a lifetime guarantee of authenticity. I personally provide a beautiful certificate of authenticity with every coin you purchase from me. Yes this certificate is a 50-100 dollar value alll in itself with it's professional research and beautiful presentation. Whether you are a collector that is just beginning or you are an expert, you can appreciate the amazing selection of ancient coins I have in my eBay store. What is another added benefit is your ability to make offers on my inventory. Yes, unlike with most other places that sell coins, you can even set your own price. A 30-day-unconditional-money-back guarantee is also provided for every item purchased. My goal is for 100% satisfaction in all purchases you get from me. Sign up to my valuable free email update list and get informed of amazing deals and get educational articles and videos about coins directly to your email inbox. Thank you for reading my page and I look forward to dealing with you soon.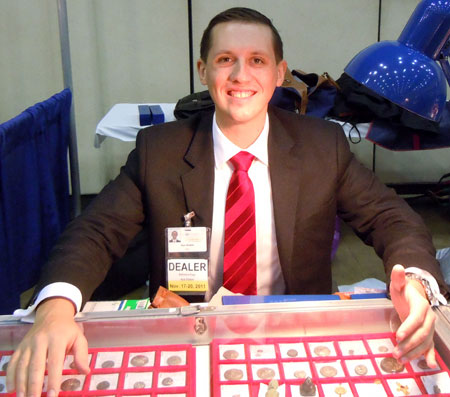 My name is Ilya Zlobin. I am a world-renowned numismatic and antique expert. My expertise is from experience of identifying and guaranteeing over 28,000 authentic ancient items and antiquities.
I specialize in coins and artifacts of the times of the Ancient Greek, Roman, Biblical and Byzantine times.
My website is: www.TrustedCoins.com
My phone number is: 1 (917) 776-7363
My email: trustedcoins@live.com
My eBay store: http://stores.ebay.com/Authentic-Ancient-Greek-Roman-Coins
Download my card today by right clicking on the image and selecting save image or save as under the menu.
What You Get With Every Purchase